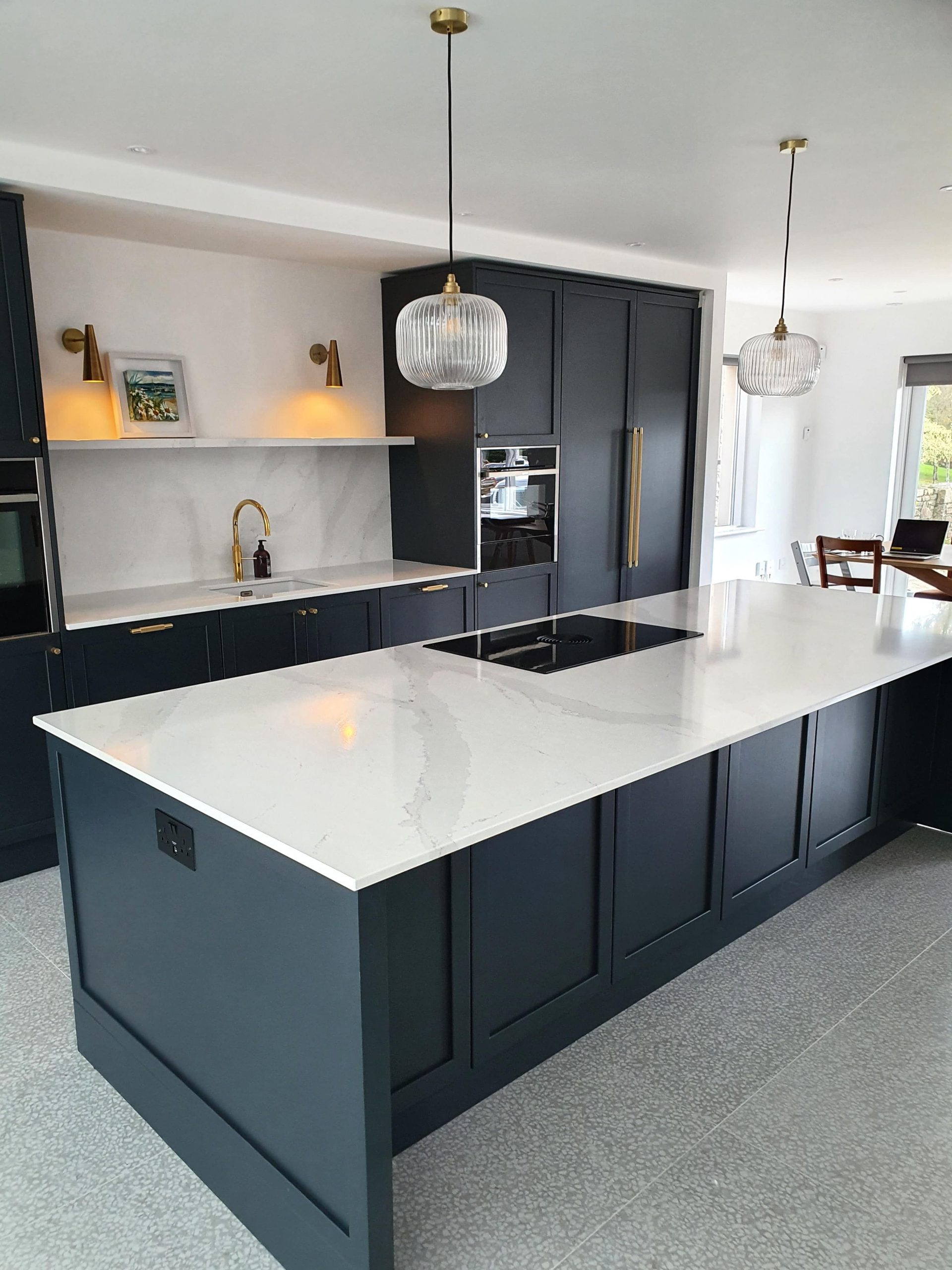 Kitchens are the hearts of our homes and for many are the rooms we spend the most of our budget on when it comes to new builds or home renovations. Here are some tips to consider when designing your new kitchen.
Be careful with trends. People replace their kitchens on average every 15 to 20 years. So, you need to pick something that will last the test of time. Shaker style kitchens and simple handless kitchens never go out of fashion.
Kitchens are a great place to introduce colour! Green is definitely the colour of the moment for kitchens and it really deserves to be, it looks fantastic, especially with brass accessories. Dark blues have been around for the last few years and are not going anywhere. Dark rich reds have started to gain some traction in kitchens over the last year in particular as accent colours especially for kitchen islands.
Going for a colour on a kitchen island can be a clever way to add that something extra to your kitchen design. If over time you get tired of that colour it is a relatively small area that can be repainted and give the whole kitchen an updated look.
Adding the ultimate wow factor can be achieved with your accessories.
If you have the budget, marble backsplashes and countertops look and feel incredible and can add real drama to your space, remember marble is a natural stone and there is yearly maintenance required. (If I had the budget, this would definitely be my choice)
Quartz is still the most popular counter top option as it is very durable and a more reasonably priced alternative to marble.
If you are looking for something beautiful and maintenance free, Dekton countertops are the way to go. Made from a blend of natural quartz stone, porcelain, and glass. These raw materials are fused and compressed under high pressure to create a slab material that is very durable.
If you are working to a tighter budget, there are some great new porcelain options for backsplashes to achieve a similar look to marble.
Finally, laminate worktops have come a long way in the last few years with some quartz style laminate counter tops looking so real you would have to knock the top of them to see if they genuine quartz or not. It is by far the most reasonable option.
If you are planning a home renovation project or would like some interior design advice why not get in touch on 0212061796 or send an email to david@rjobrienbc.ie
Written by David O'Brien, Interior Designer and Project Manager with RJ O' Brien Building Contractors Cork.